The Past
---
Boat one: the Mumm 36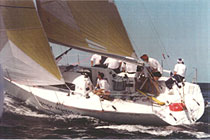 GEORGIA RACING began in 1993 with a discussion between Jim Farmer and Mick Cookson of Cookson Boatbuilders, one of the top racing yacht builders in the World. What evolved from that discussion was the building of one of the first Mumm 36′s (out of more than a hundred built worldwide over the next 4 years). A team of top New Zealand sailors was put together, headed by former New Zealand America's Cup skipper David Barnes and including a young Gavin Brady who was later to make his name on the World Match Racing Circuit and as part of Paul Cayard's afterguard in the 2000 America's Cup Regatta.
That first Mumm 36 – named Georgia Express – over the next three years sailed in top regattas around the World – in New Zealand (lst Southern Cross Cup trials, 2nd IMS Air New Zealand Regatta 1994 and 1st in Mumm 36 class), Australia (top IMS boat in the inshore racing in the Southern Cross Cup), Hawaii (in the Kenwood Cup twice), Hong Kong (Corum Cup, 3rd overall in IMS), Belgium (3rd Mumm 36 regatta), England (where it won Race I in the Mumm 36 Worlds), San Francisco (Big Boat series 1996 and 4th Mumm 36 World Championships).
Boat two: The Georgia 43 Racer-Cruiser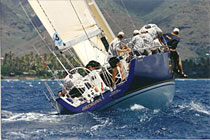 Georgia 43 Racer-CruiserJim Farmer's next boat, which he planned from the drawing board in conjunction with Bruce Farr and Mick Cookson, was a cruiser-racer version of the then top US IMS boat, the 43 foot Flash Gordon. Farmer quickly recognised that Flash Gordon's victory in its first US TMS regatta was likely to form the basis of an unbeatable cruiser-racer, based on the then favourable IMS rating that cruiser-racers were given. His judgment and the research and development that went into the building of the boat were vindicated. In the 1996 Kenwood Cup, the new Georgia not only won the prestigious CruiserRacer division but also defeated all the IMS racing yachts, including Flash Gordon which was skippered by top US helmsman Ken Read. Georgia went on to win an unprecedented 2 Air New Zealand regattas, defeating strong fleets of Australian and Japanese IMS boats and then, helmed by Dean Barker, narrowly failed to take out a hat trick when losing to the brand new Farr 50, Beau Geste, (ironically skippered by Gavin Brady, who had started his Grand Prix career with the Georgia team before moving to the United States).
Boat three: The second Mumm 36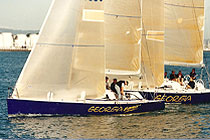 The next stage in the Georgia Racing story was the construction of a new Mumm 36 (utilising the experience and information gained from the first boat and of the Class generally), specifically to be part of the New Zealand Admiral's Cup team for 1997. That boat, Georgia Express 2, finished 2nd in the Mumm 36 class in the Admiral's Cup and was also 4th in the Mumm 36 Worlds in Punta Ala, Italy. In that last event, in the only 2 races with 12 knots or more of breeze, it was a clear winner in a large, classy, fleet.
Boat four: Corel 45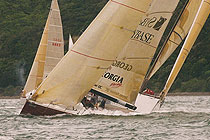 Following the sale of the Georgia 43 racer-cruiser, Jim Farmer purchased from the United States a Corel 45, which he also called Georgia and which he raced successfully in New Zealand and Australia, finishing 4th in a large IMS fleet at the annual Hamilton Island Race Week in a fleet favouring several IMS optimised Beneteau 40.7′s. His experience with the Corel, with its swept back spreaders and rig configuration (similar to the hugely popular Farr 40 One Design boats) led him down the path of thinking of developing something similar for a larger, faster boat. He had learned however that the nonoverlapping gib wardrobe used with this configuration made this type of boat vulnerable in the light and determined that this was an area would need special attention and development.
Boat five: the Farr 53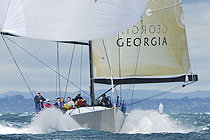 And so begins the next phase. Farmer examined a number of options, none of which he thought to be entirely satisfactory. First, he wanted to develop a boat that was fast on the water and which would therefore be competitive against all comers in local racing. He also wanted a boat which, while not being optimised for any one of the various rating rules that were confusing racing yacht owners around the world, would nevertheless be competitive in all of them. Secondly, he wanted a boat that would be relatively easy to sail and which would have the rig security that the Corel and 40 OD boats provided, but without the light air weakness. Thirdly, he wanted to build a boat that looked good, inside and out, and which would have a deck layout which the world-class New Zealand sailors who had sailed with him could make work better than that put together on a designer's drawing board.
The impetus of the fulfilment of these objectives was to emerge with the Bruce Farr announcement of the new 52 OD. This boat was claimed to have faster downwind speed above 22 knots than Sayonara, the-World Maxi Champion and phenomenal upwind and downwind performance generally. Unlike many IMS rated boats, it was also predicted to be a fast reaching boat – important for passage and local racing. Farmer quickly made contact with his friends at the Farr Office, and travelled to the United States to inspect the first 52, built by Geoff Stagg, shortly after its launch early in 2000. Then followed the development of a new concept – a custom built 53 with numerous modifications all designed to make a faster boat, with special attention to engineering changes that would allow mast head spinnakers but with a lighter carbon rig than the OD allowed and a large overlapping genoa or code zero sail for the light. Having experienced particularly bad weather conditions in the 1993 Sydney to Hobart race, Farmer also wanted to make sure that the boat was as strong as possible, consistent with its lightweight carbon construction. He therefore commissioned Hi Modulus to design a composite carbon keel floor in place of the aluminium frame used on the OD boat. This was done in conjunction with the Farr Office and the result was a stronger, and lighter, space age construction.
With the desire for absolute top finish in mind, Salthouse Boatbuilders, one of New Zealand's oldest and most reputable boat yards, was commissioned to build the boat, with express instructions to undertake a 6-7 month construction time consistent with the standard required. A male mould which, though more expensive, ensures a better product, was employed and the new Georgia, complete with interior finish design from Grant Read, was launched in October 2000, and was the cover story for the architectural/design magazine Urbis in Spring 2001 (written by Zoe Hawkins). The whole project was put together and supervised by Jeremy Lomas, a current Team New Zealand bowman who had been involved with the Georgia programme from the beginning in 1993. Lomas worked extensively with Salthouse, Southern Spars, High Modulus and with other suppliers, as well as being in continual contact with the Farr Office. He paid particular attention to deck layout and boat systems, utilising the experiences that he and other members of the Georgia crew had had over the years on the different boats, as well as their combined experience on America's Cup and Whitbread boats, to maximise sailing efficiency.
Two weeks after her launch, the new Georgia blitzed a field of 330 boats in the annual 120 mile Coastal Classic from Auckland to Russell in the Bay of Islands, being first boat (monohull or multihull) to finish and first also on corrected time. Impressively, it led Ross Field's 65 foot "Merit Cup" 1998 Whitbread 60 (now being trialled as "NewsCorp" for the 2001 Volvo race) – an unofficial entry because of its water ballast – for the first third of the race until stronger winds and the water ballast allowed it to get ahead. The next official monohull to finish behind Georgia was Hydroflow, an Elliott 52 – a colossal 48 minutes later- with Anteaus, a Davidson 65 a further 4 minutes away. The extensive research and development, added to Bruce Farr's brilliant original design, had paid off, with compound interest added.
Jim campaigned the 53 very successfully in both New Zealand and Australia. Triumphs included a third place at the 2003 Hamilton Island Regatta, under the stewardship of Russell Coutts and Brad Butterworth.
Ken Davern, a top New Zealand local sailor, managed the boat during this period and contributed greatly to its success. So too did Ricky Royden, one of New Zealand's most successful sailors who runs his own sail-making business and who continues with the current Georgia Racing programme.
Jim sold this edition of Georgia to an Australian owner in 2007 . Following a near win in the 2008 Melbourne to Hobart race, Georgia lost its rudder after hitting an unknown object during the night and sank during the 2008 Rolex Sydney to Hobart race LINK. Following the issue of a mayday all 14 crew were safely rescued, but the sinking marked a sad end to a very popular and successful boat.