The Future
---
The IRC 52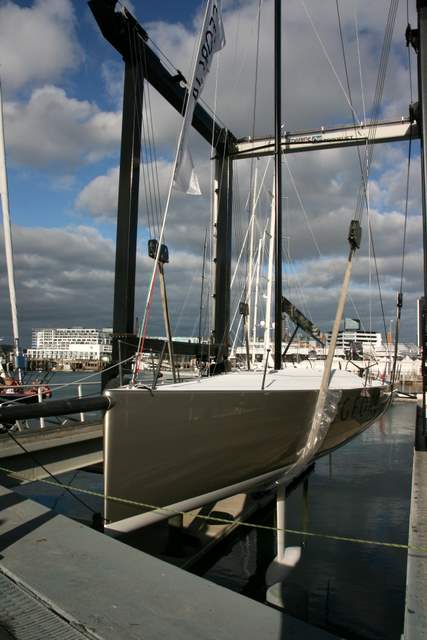 Within two years of launching the Farr 53 Georgia in 2000, Jim was thinking about owning a Transpac 52 – one day in the future.
"At that time the TPs were very similar in performance to the 53. However, it was obvious that it was a development class with owners building new boats every year – a process which accelerated with the establishment of Med Cup circuit in the Mediterranean," he explains.
"What I also liked about the TPs was that they were very good reaching boats as well as being fast upwind and downwind."
He was also enjoying racing under the IRC rule, newly introduced to New Zealand, and very popular overseas.
"IRC is, in my view, a very good rule because it encourages fast boats with big rigs (such as a TP 52) but not lightweight flyers with no interior. It also encourages older standard boats such as Farr 1020s. Georgia One (43 ft) is actually a good combination of both, because it is an older design (designed and built in 1995 as an IMS cruiser-racer) and upgraded in 2006 with a bigger rig and modern keel to be a much stiffer and more powerful boat. That was proved by its winning of the New Zealand IRC championships. In other words, IRC is certainly accommodating of Grand Prix boats and of older boats provided in both instances that they are real world boats which can be sailed both inshore and offshore."
More recently, Jim weighed up the pros and cons of purchasing an existing TP52 – possibly even Emirates Team New Zealand's boat after its first year of racing.
"I had several discussions with Grant Dalton along those lines, and at the time, he was very keen to have the boat pre-sold before it was even built. However, in the end I thought a deal was unlikely – partly because of the extra costs I would be facing in bringing the boat back from Europe and then in modifying it from the TP class to IRC."
When the ETNZ boat was being launched, Jim discussed with Mick Cookson the idea of building an IRC-optimised 52 from scratch, utilising the best aspects of the Transpac, but gaining important benefits in terms of interior space, a larger rig and more sail area and a stiffer more powerful boat by moving all the lead ballast down to the bulb.
"Because Marcelino Botin had designed the Emirates boat and is ETNZ's America's Cup designer and because of my own association with ETNZ, I was then able to put together this boat which achieved all the objectives of having a customised IRC boat but with the pedigree of a TP. The fact that Mick Cookson had no new boats under construction was also a great help and we were able to put together the project in a way that was cost effective for Georgia Racing and also enabled him to keep his best boat builders together," says Jim.
ABOUT THE HULL DESIGN
Georgia Racing's hull design is a direct replica of the fifth generation TP52 hull, built for Emirates Team New Zealand, also by Cookson Boats.
Naval architect Marcelino Botin describes it as wider and more powerful than other boats in the class, with mid and stern section shapes that are quite unique, and volume distribution which has changed to meet all round performance requirements.
The ETNZ boat was optimised for the Med Cup circuit, which visits venues offering all types of conditions, including Marseille, Cagliari and Portimao, that are all well known for demanding weather, with high average wind speeds and steep waves, as well as venues providing traditional Mediterranean light airs.
Unlike the ETNZ boat, Georgia Racing is optimised for IRC racing. Internal ballast has been removed to accommodate a more comfortable interior and a heavier bulb. The sail plan is slightly larger for a slightly lower overall displacement, and the deck has been modified to meet the requirements of the owner and rule in terms of internal space and cockpit layout.
The additional stability and sail area should make it faster than the TP52 in most conditions.
Marcelino Botin explains that as a consequence of the IRC authorities wanting TP52s to race under IRC, the boats are very competitive IRC boats.
"For this reason the IRC rule has been kind with this concept while at the same time the tp52 class is evolving into a more IRC optimised boat without the need for expensive modifications. With Georgia, most of the work has gone into optimising the sail plan and appendages with little changes to the hull which is as good as we can make it for an IRC racer."
The firm of which Marcelino was a principal, Botin Carkeek, has worked on many IRC transformations of existing TP52s and the company's designers have a very good feel of what is required to be competitive in the class.
With the Emirates TP52 taking the final series title in the 2009 Audi MedCup circuit, there is no doubt that it lived up to expectations, and as far as design ability goes, that promised much for the new Georgia.
"We chose what we thought was an acceptable performance profile and the boat pretty much performed to those requirements. We always knew that sailing the boat in light airs would be challenging but although we preferred stronger winds we still managed to win races in light airs. It was decided early what we where prepared to sacrifice down range in exchange for better performance upwind in stronger breeze. I suspect that in the future the whole fleet will move in the same direction. The crew of ETNZ did a brilliant job not only tactically but also improving the performance of the boat as the season progressed. The last regatta in Cartagena with one third as a worse result was really spectacular. Clearly they made the designers look good," says Marcelino Botin.
ABOUT THE GRAPHICS & INTERIOR DESIGN
Jim Farmer describes the interior of Georgia Racing as inspired by the aesthetics of a high performance European sports car, metallic silver and polished carbon contrast with sumptuous red leather squabs – the one concession to comfort in a boat designed for racing.
The creation is streamlined, sleek and glossy: the inside of the hull a deep, unfinished black carbon, still rough to the touch, and set against metallic silver bulkheads, polished carbon cabinetry to house the round fridge and gas cooker and navigation table.
The exterior is finished in Grigio Ingrid, a colour from the famous Ferrari stable, and that used in the last two members of the Georgia Racing fleet. But this time the transom is a striking metallic black, and graphics are heavily stylised and aggressively striking, spelling out the boat's identity in red and black.
RESULTS
Since its launch, the boat has lived up to its original promise. Highlights to date have been overall winner of the Geelong Race Week, 2nd overall at Hamilton Island and IRC and PHRF New Zealand Championship wins.