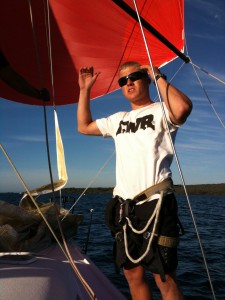 Georgia Racing recently provided an opportunity to guests to sail on the 43 Georgia One in a Squadron Wednesday night race to the highest bidder at a fund-raising evening conducted by the Legal Research Foundation in Auckland. The winner was Kelly Quinn, an Auckland barrister who practised in Hong Kong for 9 years where he met and married his Finnish wife Kaisla who worked for the Finnish Consulate. Their mutual interest in sport was evidenced by the fact that they met at the famous Hong Kong Rugby Sevens!
Kelly brought along, not only his wife, but his father-in-law, Seppo, who was visiting New Zealand from Finland. Seppo has sailed around the world in his 33 foot concrete boat, a feat which certainly impressed those on the Georgia crew who prefer to restrict their sailing to the harbour.
The race turned out to be a cracker. The Squadron had set a very long (for a Wednesday night) course, which began with a long reach, continued with two very lengthy windward-leeward legs and then finished with a reach back up the harbour. By the end of the first reach, Mojo and Satellite Spy, 2 Eliot 40 footers renowned for their reaching ability, had established a commanding lead over Georgia One. The latter however, had made up considerable ground by the end of the first run only to lose it again by being forced to the less favourable side of the windward leg by the unwelcome presence of a large cruise liner. On the second run, Georgia One passed Satellite Spy and closed in sufficiently on Mojo to pass her on the second beat and establish a significant lead on the 40 foot fleet. However, she then had to contend with Karma Police - a new lightweight fast canting keel 32 - on the reach home. Kharma Police intially rolled Georgia One but with the hoist of her tight reaching A-sail Georgia One grabbed the lead again and in a close finish held Kharma Police off to the finish.
Kelly kindly sent through some photographs the next morning taken by Kaisla during the race and they are reproduced here. The shot of the perplexed young man is of bowman Geeza (Shaun Mason), the handsome trio consists of George Hendy (tactics), Jim Farmer (helm) and Ricky Royden (main). The attractive woman with the headband is Jackie Hendy. The shot of the harbour with the sun going down is magnificent. The boat with the red sail is Kharma Police.