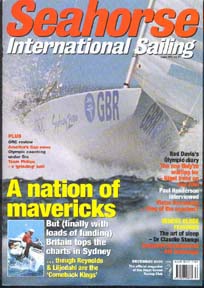 Seahorse International Sailing Magazine - Issue 250 - December 2000
When Auckland lawyer James Farmer read an article in Seahorse about the Farr 52 One Design, he was immediately impressed by what was being said about the boat. As the owner of a progression of Farr yachts - two Mumm 36s, a Farr 43 and a Corel 45 - Farmer felt ready to move up to something bigger. 'There were some pretty amazing claims about these boats' performance,' says Farmer, who was intrigued enough to visit Key West Race Week to see one of the first of them in action.
He liked what he saw, but felt he could make some improvements and achieve some efficiencies by building in New Zealand, rather than the States. 'I didn't see much point in sticking with the one-design formula,' he says. 'The Farr 40s are doing so well that, quite honestly, I don't see a big potential for growth in the bigger class as a one-design.' In any event, based in New Zealand, there was little point in being the sole representative of an international class.
Farmer spent some time talking to Russell Bowler at Farr Yacht Design and the groundwork was laid for Farmer's new Georgia, which made its debut in Auckland in October. Built by Salthouse Boatbuilders in carbon/foam/epoxy composite, the boat is right up with the new trend in metallic silver paint finishes.
A Grant Reid-designed silver and black carbon interior is offset by striking burnt-orange upholstery. The cabin sole is reminiscent of traditional teak and holly floors with silver strakes interlaid between sealed carbon fibre. It is a very handsome look. Farmer has always enjoyed an active racing regime, mixing grand-prix events like the Admiral's Cup and the Kenwood Cup with low-key Friday night rum races on Waitemata Harbour. These are non-spinnaker events, but at the top end of the fleet there is a distinctly competitive edge to the racing.
Farmer has always surrounded himself with top sailors, and the current Georgia is no exception with Team New Zealand strongly represented. Jeremy Lomas has directed the project and onboard for its debut rum race were Cameron Appleton, Lomas (sharing the helm with Farmer), James Dagg and Chris Salthouse.
With Farmer on the helm, the boat exploded out of the start on a beam reach, with Charles St Clair Brown's Davidson 65 Antaeus ahead and to leeward and three similar-sized machines, Formula One (Bruce Nelson 52), Hydroflow (Elliott 50) and Thunder (oneoff Melbourne-Osaka 52), up on the windward hip.
Georgia very quickly established dominance, accelerating dramaticalIy in the gusts, surging across the top of Antaeus and then stretching out to a comfortable line-honours win. For a boat still to be properly tuned, the numbers were impressive, with the log sitting steadily on 12.5 knots, two sail reaching in 16-18 knots of breeze, coming down to 8.3-8.5 knots hard on the wind.
The Farmer package on the new boat includes considerable refinements from the 520D, worked out in close collaboration with FarrYachtDesign in Annapolis and a team of Auckland specialists, including High Modulus, North Sails and Southern Spars. Modifications include stretching the boat by 180mm to improve upwind and reaching performance, which only had a slight impact on its IMS rating.
Significant weightgains have also been achieved in a number of areas. By building on a male mould, the hull was lighter overall than the 52. In addition, the aluminium keel floor was replaced by a carbon-composite frame, achieving a 55kg saving. Stainless chainplates were replaced in composite, a lighter steering sy.Stem was introduced with custom wheels, while Southern Spars came up with a bigger section rig making further weight savings in the process. The rigfeatures removablejumpers so that the mastwill cope with masthead gennakers and spinnakers, but does not have to carry the extra weight and windage when in IMS mode.
The rig geometry has also been modified, with the shroud base and spreaders moved inboard by 100mm, allowing the use of a 145 per cent genoa when not in IMS trim. 'We are really pleased with this aspect,' says Lomas. 'These boats have always suffered a bit upwind in light air with their non-overlapping headsails. With this bigger genoa, we have made big gains.' The mast also allows for Code Zero sails for longer passage races.
The deck layout and hardware package have also been significantly revised. All pad-eyes have been eliminated with carbon strong points and webbing blocks laminated in place. The Lewmar winch package uses low-profile winches with the drive system linked underthe cockpit, as opposed to across it on the 'standard' boat.
Though the boat makes no attempts to attract any of the cruiser-racer allowances in the IMS rule, Farmer has made some concessions to comfort. As well as a distinctly stylish look to the interior, he has included an enclosed head with hot-water shower, a clever fridge that opens up to form a cocktail cabinet, and provision for a proper oven - which slots directly into the space
for the minimal three-burner racing cooker. A removable electric anchorwinch is also included, as is a furling unit for the headsail.
Hoisting the main could be a bit of a challenge in cruising mode, though the coffee grinders will do the job, acting as a bit of a workout in the process. 'It is not a boat for serious cruising, 'says Farmer. 'Butfor a few days at a time it is certainly feasible.' The appearance and feel of this customised Farr machine is elegant and powerful, a well-finished, highly detailed package that appears to have already struck a chord among sailors.
Although Farmer never really intended doing this boat for anybody but himself, he has had solid enquiries from Japan, Australia and the US. The first mould is good for another four boats and so Georgia may yet be joined by a number of sisterships from the Salthouse facility.