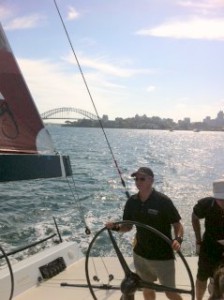 The second round of the Audi Australian IRC Championship Event for 2011 took place last weekend in Sydney. Hosted by the Middle Harbour Yacht Club, the regatta took the form of 5 windward-leeward races over the weekend, 5 and 6 March. GEORGIA (Botin and Carkeek 52) finished 3rd overall, behind HOOLIGAN (the former ETNZ TP 52 winner of the Audi Med Cup) and LOKI, the Reichel-Pugh 63, which beat us into second place at Hamilton Island last year. Fourth was the well-performed TP 52, SHOGUN, who finished ahead of LIVING DOLL (Farr 55) and WILD OATS X (Reichel-Pugh 67).
The first day's racing was unfortunately marred by the fact that the first race was delayed by 2 hours as a result of a collision between a cruising yacht and the boat carrying the pin to the start line. The sea had a very large swell and was extremely lumpy. Net result was crew sea sickness on a number of yachts as they bobbed around waiting for the course to be laid. The only casualty on GEORGIA was the owner/helmsman, Jim Farmer, who spent the rest of the day alternatively lying on his side in the bowels of the boat and throwing up. Chris Dickson forsook his tactician's position to steer the boat (not a bad substitute).
On the second day, conditions were kinder and, fortified by some strong pills, Jim retook the helm. In this fleet, GEORGIA tends to perform better in medium to light winds – certainly against HOOLIGAN – and in all 3 races performed well, finishing on the line with the 55s (LIVING DOLL and RODD AND GUNN, the former YENDYS) and in the last race with HOOLIGAN. GEORGIA's rating combined with that to give good finishing places and, as stated above, a clear 3rd overall. This represented an improvement from our 6th in the Rolex regatta in Sydney in December.
Crew work once again was excellent. Three mishaps however:
(1) Jim's bout with sea sickness referred to above;
(2) A torn kite on one of the runs which may have cost us a win;
(3) A bizarre incident, when a late call at the bottom gate from Chris Dickson, saw Tom Blampied disappear down the front hatch when pulling down the kite and ending up wrapped up in it – exactly like a cocoon. Only Keryn McMaster's skill secured his eventual rescue – three quarter's of the way up the next beat. With the rest of the crew oblivious to all of this, the resulting drop in upwind boat speed led variously to (unjustified) criticisms of the helmsman and the main sail trimmer. Jim and Ricky feel that Tom owes them one.
Next event for GEORGIA in Australia is the next round of the Audi Australian IRC Championship in July and for GEORGIA ONE (Farr 43) the BMW Regatta in Auckland 18-20 March.