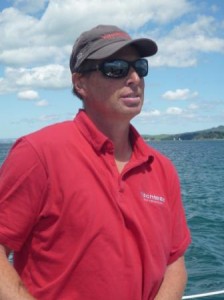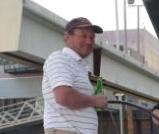 Two former Match Racing buddies are now partners in crime racing on both the Georgia 43 and the 52. Chris Funnell (pictured, top) – the owner of Yachteze boat maintenance services - is a headsail and gennaker trimmer – while sailmaker Rick Royden (pictured, bottom), who also owns his own sail making and servicing business, works wherever he is needed – usually trimming the headsail or mainsail, or calling tactics.
Chris first jumped onboard the 43 about five years ago, for Wednesday night racing.
Rick first took the opportunity to sail on Georgia in the 2003 Hamilton Island Race Week, aboard the 53, when then boat manager Ken Davern sought him out as a trimmer.
Both have been loyal to Georgia Racing ever since.
Each has a long sailing career. Chris began sailing when he was ten, aboard his father's boat. He met Rick as a teenager and regattas they undertook together include the first Farr 1020 National Champs at Pakatoa.
Rick also got into sailing via his parent's keelboats, although he crewed on an old Townson-designed two-man dart for a time. He left school for a sailmaking apprenticeship, and worked with Chris Bouzaid and Neville and Barry Thom in the 70s, which got him into sailing the one tonners and half tonners.
Together the two yachtsmen competed in top New Zealand Match Racing regattas, including Steinlagers and the Qualifying Series, aboard the Stewart 34s.
Rick's business, Sails by Rick Royden in Albany, provides a high level of service in the area of sail design and manufacture, and sail servicing.
Chris, a highly skilled cabinet maker who had worked in a family business for 25 years until his father passed away, founded Yachteze two years ago to be a specialised boat maintenance service for owners who want to walk on and walk off their vessels.
Both men juggle work and sailing with family commitments – Chris, who owns a Beale 11.6 with his brother, has two children, 10 and 7, and the eldest is sailing Optis, while family has also taken time away from Rick's sailing.
Therefore the opportunity to crew on the Georgia boats and take part in local and international regattas is appreciated by both.
"Sailing on the boat is brilliant," says Chris. "It's an excellent team – the most important thing is going out sailing, I'm grateful to Jim for the opportunity."
Rick enjoys the professionalism of the mostly amateur status crew.
"It's very rare that a boat program is put together in the professional manner the way that Jim does it," says Rick. "The boat is kept up in every aspect, the boat is kept perfectly for racing, and he is always developing new plans. It's a real pleasure."
"The racing is very important, but just as much is the camaraderie of the crew."