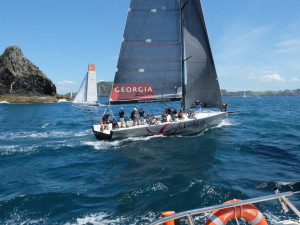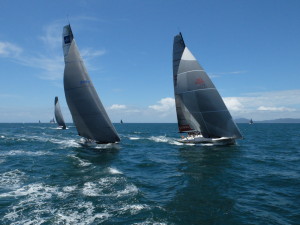 Here we are half way through the summer and of course a great summer it has been. Division A has received a real boost from the arrival of 2 further new TP52s from abroad to add to Harry Dodson's MAYHEM last year, which has generally knocked us off our perch and made us re-think GEORGIA's configuration. Both boats – VIENTO and TEMPTATION III – are Judel Vrolik design, as also is MAYHEM. The result was an exciting and closely fought Race Week at the Bay of Islands annual regatta last month (more about which below).
This year, for the first time in many years, we elected to sit out the Coastal Classic in which last year we had been the first 52 to finish. While it is a great race, it is also demanding in an organisational sense and, coinciding as it does with Labour Weekend, places great demands on the holiday family commitments of crew members. One effect also of a larger 52 fleet is that there is not the same pool of sailors available to call on if regular crew members are themselves unavailable for a particular race of event. All the 52s have, I believe, to a greater or lesser extent experienced this problem. Certainly there have been Wednesday nights when a small number of the 52s have made it to the start line.
Nevertheless, in 2 Wednesday night races before Christmas we saw the new boats and were quickly made aware how fast they were.
For Bay Week, George Hendy had done a great job in preparing the boat and with 2 new gibs from Doyles and Richard Bouzaid trimming them we were confident of performing well. We also had other Team New Zealand members Chris Salthouse on main and Jeremy Lomas doing the tactics. It was a great pleasure for me to have the latter two on the boat given the fact that they were regulars on the first GEORGIA boats in the 1990s. Chris ("Curly") Salthouse has been doing the main all summer and Jeremy ("Jero") was a very welcome addition for Bay Week. I had not sailed with Richard Bouzaid before and really enjoyed doing so. He is of course a superstar in the yacht racing world and he, along with Curly and Jero, definitely made a difference and, as one of the regulars said to me, incentivised everyone to try and lift their game – which they did.
For Bay Week, the focus of the fleet was very much on PHRF. IRC unfortunately is slowly dying in New Zealand – at least at this level – with only 2 boats in Division A entering in the IRC Division. The reality is that the owners of these kinds of boats are wanting to use bigger gear and to optimise their boats in a way that is punished under the IRC rating system. PHRF is far from an ideal rule but it does at least provide the flexibility that owners now seem to want.
The first day of racing was light. MAYHEM won the day with a 1,1,6. We had a 2,4, 5, KIA KAHA a 3,2,3 and WIRED a 4,5,1 performing particularly well in the Bay race in the afternoon. The new boats failed to fire consistently on that day.
Day 2 was also light to start but the wind built during the day and the Bay race in the afternoon (which we won) was breezy enough. MAYHEM had a bad day with an 8,5,7 after being over the start line in 2 races. KIA KAHA and WIRED remained consistent, though WIRED was disqualified in one race (which ultimately became their drop). We had a 3,7(our drop) and 1. The 7 was unfortunate and the result of our bow sprit touching TEMPTATION at the bottom mark which required us of course to take penalty turns. In this fleet, that was hard to claw back in a windward-leeward, especially when the legs were only 1.2 NM. However, at the end of the day we were a close second overall to KIA KAHA (and first if you allowed for drops at that point). We were hopeful therefore about our prospects for the third and final day.
Alas, it was not to be. Two very poor starts gave us a 4,7,7 for the day. KIA KAHA went on the win PHRF from MAYHEM and WIRED. VIENTO was 4th, we were 5th , V5 (which was the oldest boat in the fleet but had a win in one race) 6th, TEMPTATION III 7th and AKATEA 8th.
So back to the drawing board. We felt we were generally on the pace as far as boat speed went though struggling a little in the light against pure 52s (MAYHEM, VIENTO, TEMPTATION III) which are 500 kilos lighter and against KIA KAHA, which has a narrower hull form. We have identified 3 areas where we can make what we think will be significant gains in boat speed and are working on these at present.
Next regatta is the Auckland Regatta put on by the Squadron on 21-22 March.
The photographs alongside are by Nine Pin and were taken and kindly supplied by Peter Montgomery who was sailing at the time on 160 foot superyacht JANICE OF WYOMING which was taking part in the Millenium Cup for superyachts.
GEORGIA EXPRESS
The boat that began the Georgia Racing story was GEORGIA EXPRESS, the Mumm 36 built for us by Mick Cookson who also put together our first crew for that boat, including Dave Barnes, Curly, Jero, Gavin Brady, Harry Dodson and Grant Beck. Others to sail on that boat included Murray Jones and Erle Williams. The boat was eventually sold and then re-sold and then went to Australia where we saw it on a couple of occasions at Hamilton Island.
Yesterday, we received an email from the current owner, Andrew Knights, which with his permission we repeat here:
"I thought you may be interested in this development for the first in the series of Georgias. Georgia Express is currently in the McConaghy sheds waiting the fitting of a new Harry Dunning designed steel fabricated T shaped keel with lead bulb. It is envisaged her displacement will be returned to the original Mumm 36 build (shedding about 300 kg) but retain the righting moment of the current configuration where a 200 kg shoe was added to her original keel some years ago by a previous owner. I have owned Georgia Express for about 9 years now and she is a joy to sail. The original Brookes and Gatehouse instruments still work a treat and integrate with current plotter technology."
Then in a later email, he said that the hull is "still in great condition". (Well done Mick!)
Jim Farmer 12 February 2015