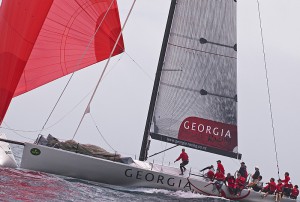 After her second placing overall in IRC Grand Prix at Hamilton Island in August in what must be the highest standard IRC fleet in the world, GEORGIA was expected to perform with equal distinction in the Sydney Rolex Trophy Regatta just completed. However, it was not to be – she placed 6th, though there was only 1 point separating 3rd to 6th places.
The winner of the regatta was HOOLIGAN, previously the all-conquering Emirates Team New Zealand TP 52 which won the last 2 Audi Med TP series in Europe. The boat was purchased by Australian Marcus Blackmore (a previous winner of Australian Farr 40 National Championships) who put her into IRC trim with a new keel, longer prod and stiffened rig. After winning the first 2 races, she held a comfortable overall lead throughout the 5 race regatta, with GEORGIA only managing to beat her once, in the last race. Both boats were built by Cookson from the same Botin and Carkeek mould though they are conceptually different in most other respects (rig, interior, deck layout, etc). In any event congratulations to HOOLIGAN, to Marcus and to ETNZ Volvo sailor Stu Bannatyne, who called the tactics. Stu sailed on GEORGIA when she won the New Zealand IRC Nationals in February this year.
Second was Hamilton Island winner LOKI (Reichel Pugh 63), with sister ship LIMIT (good mate Alan Brierty) placing 5th on the same points as GEORGIA. In 3rd place was SHOGUN (Robert Hanna), a former TP52 which beat GEORGIA in 3 of the 5 races. In 4th place was RODD AND GUNN WEDGETAIL (previously YENDYS), a R/P 55 and 7th, one point behind GEORGIA the well-performed and beautiful Farr 55 and last year's Hamilton Island winner LIVING DOLL (Michael Hiatt, another good mate).
What is obvious about this fleet is that any one of the top 7 boats is capable of winning a regatta. The racing is incredibly tight so that, while the headline above refers to a "moderate" result, the fact is that pride in being competitive in a fleet of this calibre is well justified.
So where did we perhaps fail to get that extra performance that would have lifted us into the first three? Basically, the answer is in poor starts. In 2 of the races (1 and 5), we did ing3 races, our starts where dreadful. In a fleet of this calibre where there is no boat that is smaller than you, it is just not possible to recover from bad starts and it showed, with two 5ths and a 6th in those races. By contrast HOOLIGAN had outstanding starts in every one of the races and with the exception of the last race in which we beat her on corrected time we were never in the hunt against her. My own impression, so far as it was possible to tell, was that there is little, if anything, in boat speed between the two boats but perhaps we need more races in the next regatta (Sydney, 4 and 5 March) to tell.
Leaving aside the afore-mentioned starts, the crew work was excellent with no cock-ups or damaged sails. The sailing conditions were extremely varied and at times challenging, including a spectacular Sydney forked lightning and thunderstorm which caught most of the crew unawares and without wet weather gear on.
The crew was joined by Jamie Wilmott, a well known Australian and father of an Olympic gold medallist, who called the tactics. Jamie was a pleasure to sail with.
So, not exactly back to the drawing board but certainly a need for some debriefing to lift ourselves to the top of this fleet if possible. But of course the same exercise will be undertaken by LIVING DOLL and LIMIT (helmed by Gavin Brady with Chris Dickson as tactician), both of whom will also feel that they should have done better. And, while HOOLIGAN can justifiably feel pleased with their performance, they will rest on their laurels at their peril!
Crew: George Hendy, Jackie Hendy, Emma Hendy, Ricky Royden, Rhonda McCrea, Chris Meads, Tom Blampied, Shaun Mason, Chris Furnell, Bryan Davies, Keryn McMaster, Jamie Wilmot, Chris Salthouse, Will Tiller, Jim Farmer