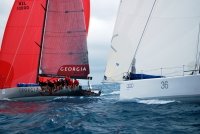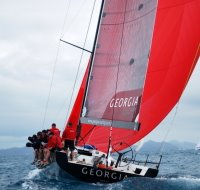 After three days of racing at Hamilton Island Regatta, Georgia sits in fourth overall in the IRC Grand Prix division, and is the first of the TP52s.
Georgia is on 21 points, behind LOKI (7 points), Living Doll (13 points), and Wild Oats (18 points). There are 16 boats in the division.
Georgia has a fifth, a fourth and two sixths - the boat placed fifth in today's three-hour Island race despite losing time thanks to a ripped kite and a replacement that wasn't 'quite right' for the conditions.
"We are still hoping for stronger wind which should see us coming into our own. Crew work has been very good," says owner Jim Farmer.
After day two Jim said, "In the light to medium breeze we have had so far - 10-12 knots - this is pretty good as the big boats (63-100 ft) really power up whereas in the higher breeze we are really fast downwind."
This afternoon the Whitsundays were a sailor's paradise with sunshine and enough breeze to get around the track in reasonable time on day three of Audi Hamilton Island Race Week. But this morning conditions resembled the movie Dead Calm, minus the psycho thriller element.
More than three hours after their scheduled start and on a completely different course area the IRC Grand Prix, IRC Passage 1 and Performance 1 fleets got away on altered courses.
Traditionally today is the long Club Marine race before the layday, but given the forecast the race committee late yesterday replaced the 60 miler with the 40 mile St Helen Rock Race starting in Dent Passage.
Tomorrow is a lay-day.