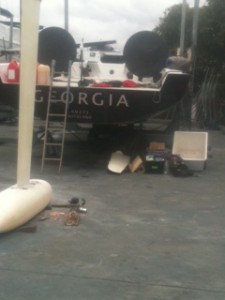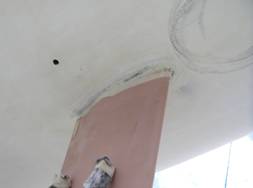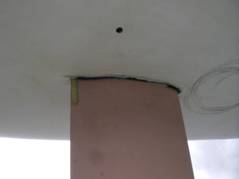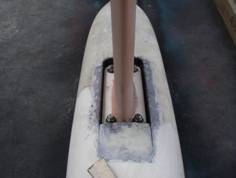 The lesson learned from Hamilton Island in August was that we were slightly off the pace upwind in a breeze against our 52 foot competitors, especially HOOLIGAN and SHOGUN. The explanation was that they have gone deeper in draft from the standard 3200 mm. of a TP52, which of course makes their boats stiffer. The problem about being "slightly" off the pace upwind is that if you are behind at the top mark it can be a real struggle getting back even if your down wind speed is very good – which ours was.
So back to the drawing board and assistance and expert advice from Adolfo Carrau at Botin Partners (who designed the boat) and great friends Nick Holroyd and Giovanni Belgrano at Emirates Team New Zealand. The result – a new fin needed to be constructed, increasing the draft to 3500 mm. and making the boat 4% stiffer (a lot).
George Hendy had the unenviable task of directing and supervising the programme for construction and fit of the new fin. The boat of course is in Australia. The new fin was built by Kawarau Engineering in New Zealand and, after finishing work, was shipped to Sydney and trucked to Pittwater where it is currently being fitted by McConaghy's after removal of the existing keel. (See photograph)
The boat will next be re-rated and then prepared for Geelong Race Week at the end of January. This will enlarge the number of Australian venues that we have competed at from Hamilton Island (twice) and Sydney (Rolex and Middle Harbour). Geelong Race Week is arguably Australia's largest regatta and is highly regarded with a large number of 52s or larger usually competing including such well performed boats as LIVING DOLL, SCARLET RUNNER, SECRET MEN'S BUSINESS and CALM (which is co-owned by John Williams who purchased the GEORGIA 53 from us and had the misfortune of hitting a large object in the 2008 Sydney-Hobart and losing the boat (a sad event not only for John but for us as well – a beautiful and extremely well-performed boat).
On the local front, our racing in the 43 so far has been rather sporadic with George away on 52 delivery duties (taking the boat from Mackay to Pittwater, a long and difficult trip on the wind all the way). We had an enjoyable Wednesday night race a couple of weeks back with strong puffy winds. Downwind the boat is now very stable even in those conditions, thanks to the excellent re-design of the rudder done by Nick Holroyd for us. Next big regatta for this boat is the annual BMW regatta in Auckland in March which doubles as the New Zealand IRC Championship. Regrettably we relinquished our national title last year when finishing 3rd in this event and so are keen to try and win it back – for the third time. The trophy is such a beautiful work of art that we want it returned to its rightful home!