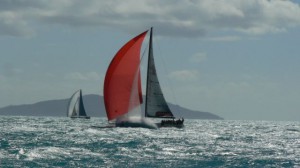 Nearly midway through Hamilton Island Race Week, Georgia is sitting in fourth spot in the IRC Grand Prix division, after consistent performances in three races and, hopefully, breathing space to drop its worst result so far, an eighth in the windward-leeward longhaul course of Saturday's Lindeman Island race.
"At the top mark – which is a passage through two islands – we were in average shape, one or two boat lengths behind SHOGUN, a TP52 against which we have had lots of close races previously," recounts owner and skipper, Jim Farmer.
"We had gone quite well on the beat but two-thirds of the way up had fallen between two areas of pressure and that probably converted what would otherwise have been a good beat into an average one."
Then the kite hoist turned bad when the gennaker caught and tore on a stanchion, forcing the crew to peel and run home minus the gennaker best-suited to the conditions.
"Nevertheless we made good pace and three quarters of the way down had ! closed in on SHOGUN, only to lose it all again when they gybed away into more pressure. Chris Dickson did a good job in directing us past another TP52 shortly before the finish but the overall result was a disappointing 8th."
Sunday's sailing saw three windward-leewards in strong conditions.
A race committee error saw the windward mark placed too far out, making what should have been a 2.3mile leg, into a 4.6mile one.
The wind built to 25 knots through the day, with lumpy seas and opportunities for wild surfing on the runs, with the deck of the boat often awash.
GEORGIA finished the day with two fourths, and a fifth, and today's race is another island race, with even stronger wind to be predicted and tomorrow more still for the 60 mile long island race. Wednesday is an off day – a great opportunity for the three Rs of regatta lay days: Rest, Relaxation, and Repairs.