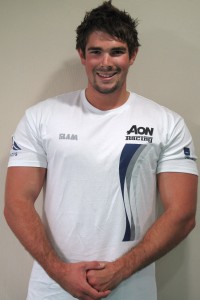 Tom Blampied (22) is in Europe for his first season of international match racing, and, hopefully, the start of an illustrious professional sailing career. Nearly three months in to it, how is he getting on?
Tom reports that he is still match racing for Aon Racing (skippered by Rueben Corbett), doing pit on the five-man boats, and trim on the four-man boats.
The team is currently ranked 10th in the world.
"We have had some promising results with entry so far to three world match race tour events," says Tom of the team that are still very young in comparison with their veteran rivals.
"We have a while to go, and a lot to learn. I think that is one of the beauties of the sport that you are always learning no matter what level you are at."
Tom is also putting in time on the RC44 circuit, and he has finished a regatta with Oracle Racing in Cagliari as a grinder.
"Their normal grinder was away so I jumped at the chance and it paid off," says the former champion rower.
Of his experiences so far, Tom says, "The year has been good so far for me and I am slowly achieving the goals I had set myself at the start of the year. The RC44 regatta has definitely showed me what level I need to get to."
Russell Coutts has provided some valuable advice: that now is the hardest time, because you have to champion yourself. "He said it's a lot easier when you are in a Cup team as you have a lot of people to hold your hand and help you out, but you have to get there first," says Tom.
Georgia's other young gun, Shaun Mason, is also offshore match racing with Full Metal Jacket, currently ranked 24th in the world. The team have had eight wins, and 13 podium finishes, in the last year alone.
Links:
www.aonracing.co.nz & www.fmjracing.com