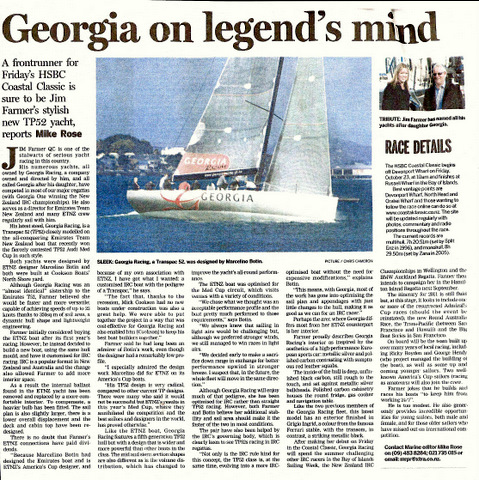 A frontrunner for Friday's HSBC Coastal Classic is sure to be Jim Farmer's stylish new TP52 yacht, reports Mike Rose.
Jim Farmer QC is one of the stalwarts of serious yacht racing in this country. His numerous yachts, all owned by Georgia Racing, a company owned and directed by him, and all called Georgia after his daughter, have competed in most of our major regattas (with Georgia One winning the New Zealand IRC championship). He also serves as a director for Emirates Team New Zealand and many ETNZ crew regularly sail with him.
His latest steed, Georgia Racing, is a Transpac 52 (TP52) closely modelled on the all-conquering Emirates Team New Zealand boat that recently won the fiercely contested TP52 Audi Med Cup in such style.
Both yachts were designed by ETNZ designer Marcelino Botin and both were built at Cookson Boats' North Shore yard.
Although Georgia Racing was an "almost identical" sistership to the Emirates TP52, Farmer believed she would be faster and more versatile; capable of achieving speeds of up to 25 knots thanks to 350 square metres of sail area, a dynamic hull shape and lightweight engineering.
Farmer initially considered buying the ETNZ boat after its first year's racing. However, he instead decided to build a new boat, using the same hull mould, and have it customised for IRC racing. IRC is a popular format in New Zealand and Australia and the change also allowed Farmer to add more interior space.
As a result the internal ballast found in the ETNZ yacht has been removed and replaced by a more comfortable interior. To compensate, a heavier bulb has been fitted. The sail plan is also slightly larger, there is a lower overall displacement and the deck and cabin top have been re-designed.
There is no doubt that Farmer's ETNZ connections have paid dividends.
"Because Marcelino Botin had designed the Emirates boat and is ETNZ's America's Cup designer, and because of my own association with ETNZ, I have got what I wanted: a customised IRC boat with the pedigree of a Transapc," he says. " The fact that, thanks to the recession, Mick Cookson had no new boats under construction was also a great help. We were able to put together the project in a way that was cost effective for Georgia Rcing and also enabled him (Cookson) to keep his best boat builders together."
Farmer says he had long been an admirer of Botin's work, even though the designer had a remarakbly low profile.
"I especially admired the design work Marcelino did for ETNZ on its America's Cup boats. His TP52 design is very radical, compared to other current TP designs. There were many who said it would not be successful but ETNZ's results in this year's Med Cup, where they annihilated the competiton and the best sailors and designers in the world, has proved otherwise."
Like the ETNZ boat, Georgia Racing features a fifth generation TP52 hull but with a design that is wider and more powerful than other boats in the class. The mid and stern section shapes are also quite different as is the volume distribution, which has changed to improve the yacht's all-round performance.
The ETNZ boat was optimised for the Med Cup circuit, which visits venues with a variety of conditions.
"We chose what we thought was an acceptable performance profile and the boat pretty much performed to those requirements," says Botin. "We always knew that sailing in light airs would be challenging but, although we preferred stronger winds, we still managed to win races in light airs. We decided early to make a sacrifice down range in exchange for better performance upwind in stronger breeze. I suspect that, in the future, the whole fleet will move in the same direction."
Although Georgia Racing will enjoy much of that pedigree, she has been optimised for IRC rather than straight TP52 racing. However, both Farmer and Botin believe her additional stability and sail area should make it the faster of the two in most conditions.
The pair have also been helped by the IRC's governing body, which is clearly keen to see TP52s racing in IRC regattas.
"Not only is the IRC rule kind for this concept, the TP52 class is, at the same time, evolving into a more IRC-optimised boat without the need for expensive modifications," explains Botin. "This means, with Georgia, most of the work has gone into optimising the sail plan and appendages with just little changes to the hull, making it as good as we can for an IRC racer."
Perhaps the area where Georgia differs most from her ETNZ counterpart is her interior. Farmer proudly describes Georgia Racing's interior as inspired by the aesthetics of a high performance European sports car: metallic silver and polished carbon contrasting with sumptuous red leather squabs.
The inside of the hull is deep, unfinished black carbon, still rough to the touch, and set against metallic silver bulkheads. Polished carbon cabinetry houses the round fridge, gas cooker and navigation table.
Like the two previous members of the Georgia Racing fleet, this latest model has an exterior finished in Grigio Ingrid, a colour from the famous Ferrari stable, with the transom, in contrast, a striking metallic black.
After making her debut on Friday in the Coastal Classic, Georgia Racing will spend the summer challenging other IRC racers in the Bay of Islands Sailing Week, the New Zealand IRC Championships in Wellington and the BMW Auckland Regatta. Farmer then intends to campaign her in the Hamilton Island Regatta next September.
The itinerary for 2011 is still fluid but, at this stage, it looks to include one or more of the resurrected Admiral's Cup races (should the event be reinstated), the new Round Australia Race, the Trans-Pacific (between San Francisco and Hawaii) and the Big Boat Series in San Francisco.
On board will be the team built up over many years of local racing, including Ricky Royden and George Hendy (who project managed the building of the boat), as well as some up and coming younger sailors. Two well-known America's Cup sailors (racing as amateurs) will also join the crew.
Farmer jokes that he builds and races his boats "to keep him from working 24/7".
He is too modest. He also generously provides incredible opportunities for young sailors, both male and female, and for those older sailors who have missed out on international competition.