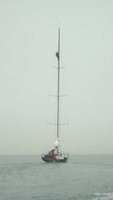 Right now, Georgia is enroute to the Whitsundays in Northern Queensland, for Audi Hamilton Island Race Week 2010. Here is the first report from the delivery crew, which departed Auckland on Thursday 5 August.
Hi all from Georgia Racing,
Firstly thanks George for all the weather updates has been real helpful and good to know someone is looking at it for us. Also nice to know what to expect before we start our night shifts.
Fishing Update: 4 Tuna lines currently out of the water because it is now dark and cant be bothered dealing with fish at night. (Still waiting for my big
one)
All is going well onboard, captain Kim has some good stories to tell and is always good for a laugh.
We have been going north for quite some time now to get right past NZ, about 3
hours we put in a tack and have started heading for ozzy. I have got quite good at using this nav program on the boat's computer (is great for zooming in on dives sites and reefs I never knew about) also have been plotting some way points to ozzy. At the moment our course will take us below Northfolk Island and with the expected forecast and abit of wind we should make some really good miles in the 24 hours. The wind is meant to be in out favour.
Currently:
Boat Speed = 8.5 knots
Wind Speed = 7 knots
Direction heading = 285 degree's
Position = 33 07.491S 173 48.117E
Over and Out,
Tom