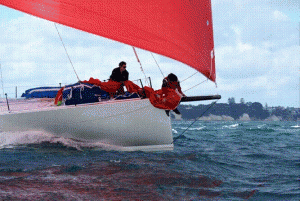 They are the young guns of the Georgia foredeck, and they bring the average age of the crew down by at least a decade. Tom Blampied (22) and Shaun 'Geeza' Mason (21) both seek careers as professional sailors, and soon will embark on a European tour which they hope will deliver big opportunities on the international circuit.
Last month, Tom and Shaun were working for Emirates Team New Zealand, helping to launch their America 's Cup cat, and doing odd jobs around the base.
Then Tom departed for Europe with Aon Racing, the Match Race team skippered by Rueben Corbett, which is currently ranked twelfth in the world, and Shaun departed with Full Metal Jacket, for his second stint on the World Match Race Tour. Full Metal Jacket is skippered by Kiwi William Tiller, and sponsored by Georgia supporter, Chris Meads.
Tom is relatively new to sailing. Throughout school he excelled at national level as a rower, medalling several times at the Maadi Cup, and representing New Zealand in the Under 18 Team. But he fell sick at a critical time during the trials for the New Zealand Juniors, and after finishing school found his heart wasn't in rowing anymore.
He wanted a new sport to focus on, and signed up for the prestigious Royal New Zealand Yacht Squadron Youth Program. It was his first time sailing, but he was hooked and from there the rest is history, as they say, progressing from youth sailing to big boat sailing, and Match Racing. Several months ago he resigned from his job as an insurance broker, to focus 100% of his time on sailing.
Shaun, who grew up in Portsmouth, England, had a more traditional start to his sailing career, beginning in Optimists and graduating through the Youth classes. He moved to New Zealand when he was 16, and entered the RNZYS Youth Program, sailing with Tom. Through that, he was invited to sail aboard Georgia as bowman, and the IRC Nationals was his first major event with the crew.
Both lads have benefited from the opportunities that sailing on a boat like Georgia offers – rubbing shoulders with guys like Chris Dickson, Dean Barker and Jeremy Lomas, travelling with the boat to the major Australian regattas, and delivering the boat across the Tasman.
There are many memorable moments and choosing one is difficult, but the time that they hauled a massive Spanish Mackerel on the deck, only for it to bite George Hendy on the ankle, is a good one.
"There are heaps of things like that," says Tom. "I like the way Jim runs the boat, and the people on it. They have been racing together for ages, it's like a big family."