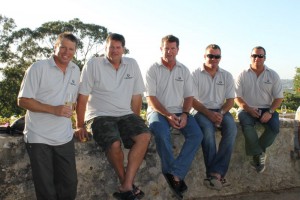 Georgia trimmer Chris Funnell qualified for the invitation-only BMW Sailing Cup, and travelled to Portugal with his crew for the World final.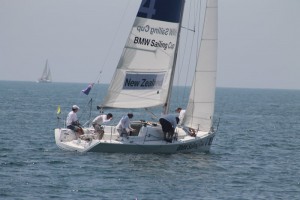 After BMW Sailing Week, Bucklands Beach Yacht Club nominated two skippers (Grant Turnbull and Geoff Martlew) for the New Zealand final of the event. Both wanted the best available crew, and Chris, with other crewmembers, was on both of their wishlists - so the skippers joined forces to put together one very strong crew, and in light conditions in MRX fleet boats, won the local event, and qualified for the trip of a lifetime.
Racing under skipper Grant Turnbull, Chris was mainsail trimmer, with Stu Clark trimmer, Geoff Martlew on keyboards, and Richard Watson on bow.
It was Chris's first time in Portugal, and he was joined there by his wife, Susie, and his two girls, Rebecca and Rachel.
"BMW were superb hosts and we were really looked after," he says. "Cascais is a fishing village that has become a weekend getaway destination for Lisbonites. It has a holiday feel but it is still very much a working fishing village with lots of fishing boats."
The regatta was held in water that was open to the Atlantic, but the fleet sailed in close to shore.
"The sailing area was littered with fishing nets and bouys. We even had one fleet race where a fishing boat came right through the middle of the fleet, on downwind leg, letting out his 200m net which prevented us from gibing when we wanted to. The fishermen carry on regardless of anyone else using the water. The previous day the Portugese got caught up for at least 10 mins during a match race which cost them the race. We got caught up briefly which slowed us down but it managed to clear itself quickly."
He says the breeze was shifty, blowing steadily from the SE at 10 knots each morning, then dropping at midday, and coming in from the NW. There was one heavy day, and racing on finals day was very light – to the detriment of the New Zealand team.
The boats, a Grand Surprise design, were around 30 foot in length, and the race committee dictated what size headsails to use, and whether spinnakers were allowed. "They were nice boats to sail but under powered in the light air," says Chris.
However, the team had a good regatta, finishing fourth on Day 1, despite discovering late in the day that they were probably dragging an open propeller. They enjoyed match racing in breezier conditions on Day 2, winning against German and Spain, and losing against Italy and Portugal, to be third overall. On Day 3's fleet racing, they finished 1st or 2nd in all races, and went into the Finals day, in very light winds, in second place. There they lost to Italy 2-1 in the Semis, and beat Spain 2-0 in the Finals for a final position of third, behind Portugal and Italy.