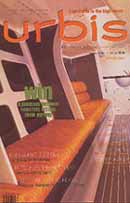 Issue 13 - Spring 2001 - Urbis Magazine - by Zoe Hawkins
The test of a racing yacht is its ability to cope with extremes and perform with agility and speed under a range of pressurised circumstances. Maximum strength with minimum weight are the key factors that produce a winning boat. One of the latest additions to the elite class of grand-prix racing yachts on Auckland Harbour is also one of the most visually exquisite.
Georgia Racing, owned by renowned lawyer and businessman James Farmer QC, was launched midway through 2000, and has since proven that it can outclass some of the best in the racing game. Besides its recent glories and a very promising future, what really makes Georgia stand apart is the attention to aesthetic detail that was paid to it by the owner and his team of designers and builders. The yacht is a tribute to the ultra-modern, fitted out in a combination of carbon, silver and leather that is sheer joy to hi-tech enthusiasts.
"True racing yachts are equipped with the bare minimum of comforts," explains Farmer. "Unless you also plan to spend time cruising, you want your boat to weigh as little as possible. Most top-level yachts have very spartan, unfinished interiors - even a coat of paint can weigh as much as a light crew member."
Before Farmer commissioned Georgia he looked at the successful Farr International One-Design 52s in the United States. He liked the designs, but could see room for improvement to make a slightly bigger, faster boat. Georgia, at 53 feet, incorporates some detailed technical changes in order to enhance boat speed and efficiencies. "When we designed and built Georgia, I also wanted fhe interior to be differenf from other racing yachts. We were aiming to be successful at the top international regattas. We did not want to compromise speed, so the challenge was to create a goodlooking and comfortable yet lightweight interior that would not disadvantage us."
Farmer hired Auckland-based illustrator and designer Grant Reed to design Georgia's interior. Reed produced a series of concepts as proportional drawings and crosssections that the builders were able to work from. "It is an incredibly lightweight, scientific boat," says Reed. "So for the interior we used as many hi-tech elements as we could, while conveying a little of the sumptuous element for cruising. A large part of the design is a reflection of what I found out about Jim's personal taste."
Reed, trained as an architectural draughtsman, has previously worked on marine interiors. He also designed the little yellow Water Taxis, launched around Auckland's Viaduct Basin before the America's Cup and now a city icon.
Reed created a streamlined, sleek and glossy interior for Georgia's main cabin. The floor is carbon fibre with a silver pin stripe, for a nautical planked look. The finish is glossy, and black pigment was added to the resin to ensure a deep black effect. Kickboards above the floor are finished with a satin silver lacquer, touched with pearl lustre, and the carbon-fibre trim is high-gloss. Aluminium facings on shelving units are bee-cleaned and nickel painted, and in order to create a feeling of lightness, the ceiling is parchment white. The nav station, which according to the boat's crew is highly functional and effective, contains electrical controls and houses the yacht's directional system, where all the navigation elements are streamlined into a single laptop. It is positioned just aff of the main hatch and is a self-contained capsule which reflects Georgia's hi-tech and almost space-age theme. The finishing touch is tan leather squabs that give a hint of smoking-room comfort.
Farmer's concessions to interior comfort won over only 15 of the boat's 53 feet. The remainder - the forward and aft sections of the hull, rarely used except for storing sails and supplies during races and offshore passages - is unfinished carbon in its raw state. Very dark, but visually it is an effective and dramatic contrast to the light metallic theme of the main saloon.
Georgia's exterior is also a departure from conventional racing aesthetics. The hull is painted with Grigio Ingrid from Ferrari's automotive palette, more often seen on city streets than on the water. But it is a perfect visual complement to the colour and texture of high-performance 3DL sail fabric, white decks and charcoal-toned carbon-fibre coffee-grinder winches and rigging. And while the mysterious characters printed on Georgia's boom cover spell out "Georgia" in the Wingdings font, the sail number - NZL 10000 - spells out a big and promising future. For Greenhithe-based Salthouse Boatbuilders, the production of Georgia was a major challenge. For this family-owned business specialising in custom-built boats, particularly those with wooden hulls, the technical aspects called for specialist expertise. "It was our first fully-carbon race boat," says managing director Phil Salthouse. "Since then we have done more boats using the same techniques, but I don't think there will ever be another yacht in the world that looks like this one."