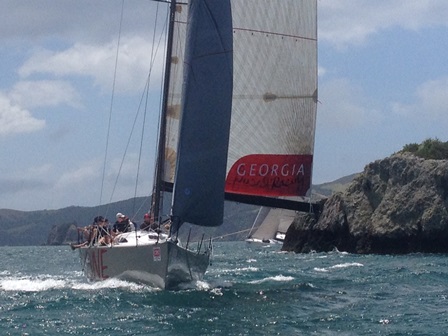 As in 2013, both Georgia Boats competed in the Bay of Islands Race Week 22-24 January. GEORGIA competed in Division A and GEORGIA ONE in Division B. In both cases the format was 2 windward-leeward races and a Bay race each day, though the time taken for the wind to kick in on the third day meant that the Bay race was canned.
GEORGIA ONE, helmed again by Rhonda McCrea and with David McGlashan calling tactics, also had Team New Zealand's Ross Blackman using his local knowledge to navigate. The boat's past stellar successes, including winning the Kenwood Cup in Hawaii when new in 1996 and the New Zealand IRC Championships after it had been modified with new keel and rig in 2008, meant that its rating under PHRF and General Handicap did it no favours and they were out of the money. At times they showed great boat speed but also had a few mishaps which ultimately meant that, except on line (where they finished well up against some much newer boats), they were down the leader board. However, the crew spirit remained strong at all times and great fun was had by all. The young guns – Tom Peet, Aaron Thompson and Russell Macefield– proved again what great assets they are to a racing yacht.
GEORGIA was up against competition in Division A with a fleet of 5 top class 52s and the well performing Cookson 50 Akatea that was unprecedented in recent times in New Zealand. Harry Dodson's new TP 52, imported from America, MAYHEM, proved to be a flier and VAMOS, the former SHOGUN IV from Australia and a top boat over the past few years, added real spice to the local boats WIRED, KIA KAHA and GEORGIA. Unfortunately V5 hit a rock on the delivery trip from Auckland and was unable to add to the fleet.
The racing was incredibly close with all 5 boats having their moments in the sun. Ultimately, PHRF came down to the last race with GEORGIA and MAYHEM tied at that point. The race had a spectacular finish with 15 seconds covering all 5 boats as they crossed the line. Unfortunately, MAYHEM was the first of those and GEORGIA the fifth and so MAYHEM had a well-deserved victory. VAMOS won IRC. Neither MAYHEM nor GEORGIA entered in IRC this time. GEORGIA has recently built and fitted a new flat top main (with runners in place of the previous hydraulic back stay) and has yet to obtain a new IRC rating.
The new main proved to be very satisfactory but there is still a learning curve that we are going through to find the optimum upwind trim and mast rake.
The presence of very large numbers of dolphins around the boats, especially before the starts, added to the normal pleasure of sailing. Rhonda had one who thought it fun to knock against the GEORGIA ONE rudder when they were racing and the GEORGIA crew were entertained by 3 dolphins who twice leapt in unison out of the water alongside the boat, performing spectacular acrobatics that was captured on film and featured in the Northern Advocate and NZ Herald. See http://www.nzherald.co.nz/northern-advocate/news/article.cfm?c_id=1503450&objectid=11191362
We were honoured to have had with us Brad Butterworth calling tactics. His experience and skill and assessment of the boat were invaluable. Brad last sailed (with Russell Coutts) on GEORGIA – then the Farr 53 that was later sold into Australia – in Hamilton Island in 2004 when we finished a creditable 3rd overall in Division A.
GEORGIA RACING has been fortunate over the years to have had COUTTS, BUTTERWORTH, CHRIS DICKSON and DEAN BARKER sail with us on the boat in regattas. I doubt that many others can make that boast. Hopefully it reflects a respect for the GEORGIA RACING boats and programme that the world's top sailors are happy to sail with us. Apart from the contribution that they make to the sailing of the boats, their advice generally has been of immeasurable value.
Both boats were once again beautifully prepared by George Hendy. The new deck paint on GEORGIA ONE was also a massive improvement from the old paint.
Crews:
GEORGIA
Jim Farmer
George Hendy
Brad Butterworth
Jackie Hendy
Keryn McMaster
Tom Kearney
Chris Funnell
Ricky Royden
Chris Steele
Brad Farrand
Andrew Wills
Andrew Cooke
Ross McKee
Shaun Mason
GEORGIA ONE
Rhonda McCrea
Dave McGlashan
Bryan Davies
Ross Blackman
Andrew Springfield
Tomo Terakawa
Tom Peet
Aaron Thompson
Russell Macefield
Mike Gibson
Susan Farron
Ron Farmer
Rebecca Funnell
Bernie Albert