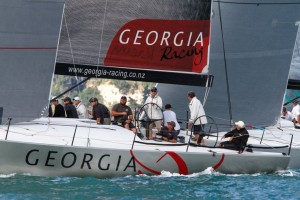 Photo courtesy of Ivor Wilkins.
The annual Jack Tar Auckland Regatta took place over the weekend of 21 and 22 March 2015. The racing in Division A, consisting of 9 TP 52 style boats including 2 new acquisitions from abroad, promised to be exciting. And so it proved to be with little between the whole fleet and inevitable close mark roundings which at times led to protests and penalty turns. GEORGIA fell foul to a penalty turn on the first day (hitting the top mark) and was subjected to a protest on the second day for a claim that room was not given to the protesting boat at the bottom mark. The protest was thrown out.
Harry Dodson's MAYHEM proved to be the top boat of the Regatta, winning the hotly contested PHRF in Division A. GEORGIA finished 6th, not helped by the main halyard breaking in one race when in the lead. On line, she was third overall.
What was again evident was that in light winds, though competitive with the lighter boats built for windward-leeward racing in Mediterranean conditions, she was just a click off the pace which meant that 3rd or 4th around the top mark on the first beat in this fleet was never going to be good enough. The remedy, which we identified at Bay Week in January, is to take half a tonne off the weight of the bulb and to deepen the draft to maintain a similar righting moment. Steps have been taken towards achieving that end.
We were fortunate once again to have Brad Butterworth doing the tactics. His contribution to the sailing of the boat goes far beyond making tactical calls. As one of the crew said: "When Brad is on the boat, it's a real incentive to lift our game."
It was great also to have Ricky Royden sailing with us once again. Proper tribute has not been paid to him yet for the massive contribution that he has made to the GEORGIA programme over the years until his decision to (semi-) retire last year. We were also pleased to be joined by Tiny Whiting, known for his America's Cup and other international sailing experience.
On the first day of the regatta Chris Salthouse (Curly) took the helm with regular helmsman Jim Farmer at his nephew's wedding. Jim returned for the Sunday, with no discernible change in performance other than appropriate clothing (Curly coming in for some stick for wearing jeans, possibly because Team New Zealand is currently strapped for cash).
Crew for the Regatta was:
Jim Farmer, George Hendy, Brad Butterworth, Jackie Hendy, Emma Hendy, Chris Funnell, Rick Royden, Denis Kendall, Chris Salthouse, Andrew Cooke, Tom Peet, Trent Cunningham, Carl Whiting, Daniel Bush, Kyren McMaster and Josh.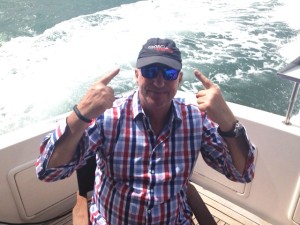 Sir Ian Botham joins Georgia Racing (photo courtesy of George Hendy) Next event is the undertaking the alterations to the boat, hopefully completed by June, and then the Winter Series.